INFORMATION AND UPDATES
Registration for YAE-ZAKURA 2022-2023 opens on August 1st, 2022! A downloadable flyer is available below. We will continue to update this page as new information becomes available.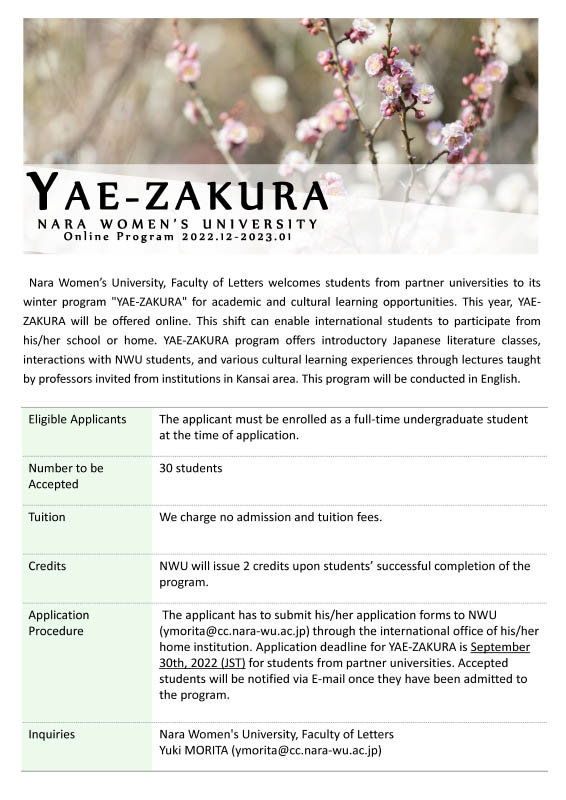 Nara Women's University Faculty of Letters Winter Program YAE-ZAKURA
Program Overview
This year, Faculty of Letters offers a two-month online program for students from partner universities that provides intensive academic and cultural experiences. YAE-ZAKURA program offers introductory Japanese literature classes, cultural exchange seminars with NWU students, and various cultural learning experiences through lectures taught by professors invited from institutions in Kansai area. This program is designed for undergraduate student. The program is open to both male and female students.
Eligibility
Applicants must be currently enrolled as full-time students in an undergraduate (bachelor) program at their home institution. Applicants must be fluent in English. No Japanese proficiency is required as all lectures are conducted in English during the program. Every student with any type of academic background is eligible to apply for the program.
Numbers to Be Accepted
30 students
Credits
This program is conducted as "Japanese Culture Studies B (course number: 2001315, 「日本文化研究B」 )" . Nara Women's University will issue 2 credits upon students' successful completion of the program.
Tuition
NWU charges no admission and tuition fees.
Application Procedure
Registration opens on August 1st, 2022 (JST). The applicant has to submit his/her application forms to NWU (ymorita%cc.nara-wu.ac.jp) through the international office of his/her home institution. Application deadline for YAE-ZAKURA is September 30th, 2022 (JST). Accepted students will be notified via E-mail once they have been admitted to the program. Application forms are available below:
YAE-ZAKURA Application Form (2022-2023)
*Please replace "%" with "@" when sending an E-mail..
Selection Process
We will evaluate all information submitted including his/her transcript.
Lectures
Students will take pre-recorded lectures during the designated period of time (December 1st, 2022-January 31st, 2023) and take a quiz to complete each lectures. Please note that 2022-2023 syllabi are being uploaded as they become available.
Cultural Exchange with NWU Students
During the program, students from partner universities have opportunities to interact with NWU students online. Students in NWU introduce our beautiful and historic campus and the city of Nara through videos. We have 3 seminars for cultural exchange, and please mind that it is mandatory to participate in all classes to complete the program.
Resources for International Students
YAE-ZAKURA 2020
The winter program YAE-ZAKURA 2020 was conducted from January 6th to January 16th, 2020. The program was conducted in Japanese, and consisted of introductory linguistics lectures taught by NWU faculty in the morning, and academic and cultural excursion in the afternoon. This time, we welcomed undergraduate students from Lehigh University (USA) to our beautiful campus in Nara. Students from Nara Women's University also joined to excursions with Lehigh students. The places we visited for excursions include Todaiji Temple*, Kofukuji Temple*, Nara Prefectural Office, Kasuga Taisha Shrine*, Gangoji Temple*, and Heijo Palace Site*.
* Registered World Heritage Site
YAE-ZAKURA 2021
The Winter Program YAE-ZAKURA 2021 had been canceled due to the continuing spread of COVID-19.