Department of Human Sciences
Courses of the Department of Human Sciences
・Education-Philosophical Anthropology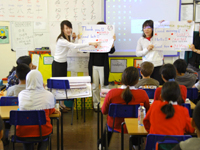 Students conduct research on a wide range of phenomena related to human development and human existence, such as education, art, body culture, and thought and ethics, utilizing various methods ranging from literature review to empirical research. Students are expected to acquire practical ability in taking empirical and theoretical approaches to various issues facing modern society and in solving these issues creatively.
・Psychology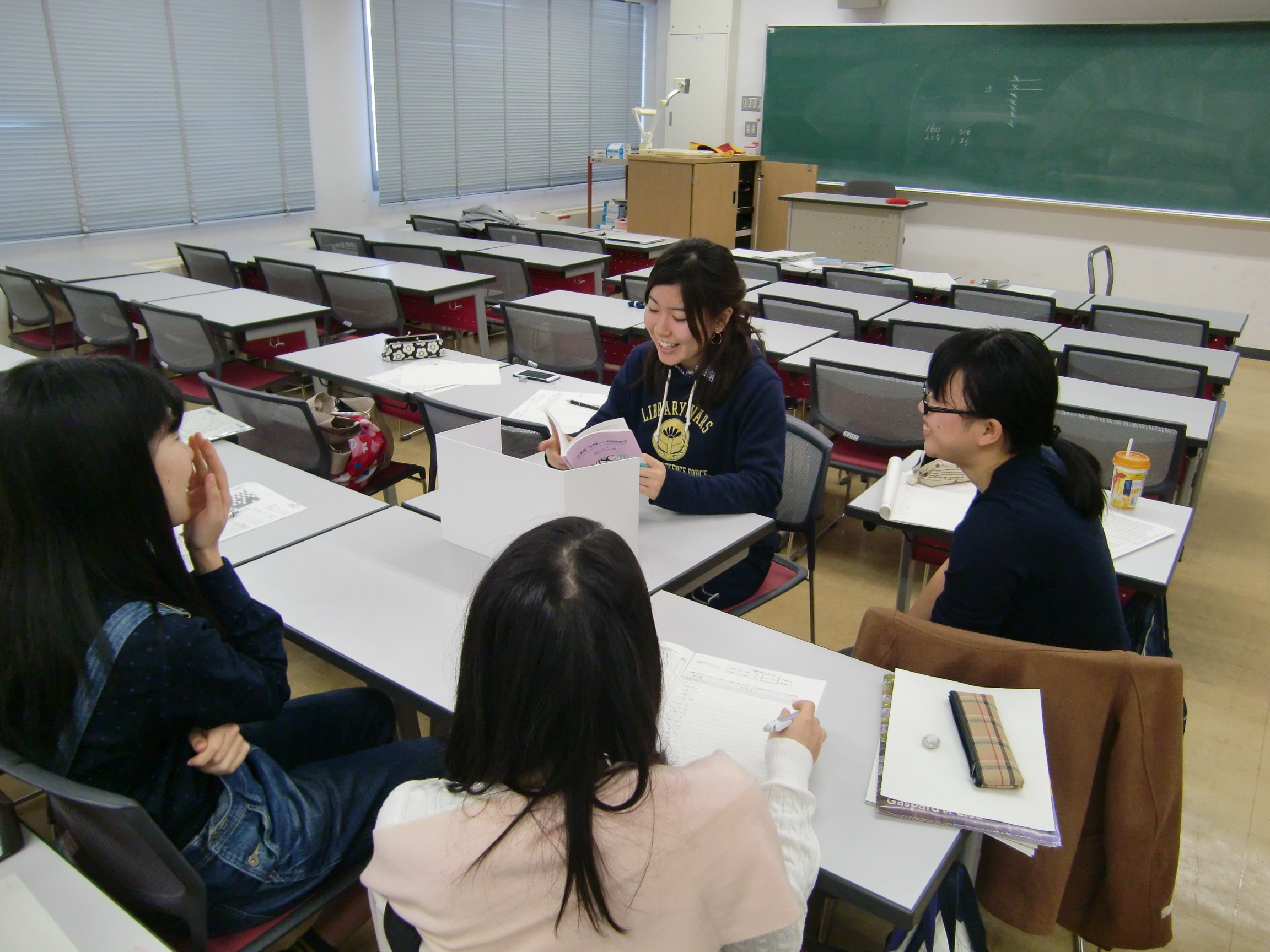 Students broadly study and research various areas of psychology—focusing mainly on cognitive psychology, developmental psychology, educational psychology, and social psychology—with the aim of gaining a comprehensive understanding of humanity. The course emphasizes the basics of psychology and their clinical and practical applications. It cultivates students' abilities to independently ask questions and conduct research based on scientific methodologies, including experiments, surveys, observation, and interviews.
  Another characteristic of the Faculty of Letters' Psychology course is that it enables students to study the specialized field of psychology while also being exposed to a wide range of learning related to humanity, including fields closely related to psychology (education, sociology, etc.), languages, literature, and history.
 Since 2018, our curriculum has been reorganized to enable students to meet the criteria for taking the Professional Psychologist examination.
Everything Begins with the Questioning of Humanity
  What will you learn in the Faculty of Letters? Perhaps the first fields that come to mind are Literature, Languages, History, or Society. However, all these phenomena have been created by humans. The Department of Human Sciences offers examinations of humanity, both theoretically and practically.
  Have you ever felt somehow suffocated or empty even though you are surrounded by material things and enjoy wealth and freedom? What is it that we humans have gained, and what have we lost?
  Also, have you ever been encouraged or had your spirits lifted by someone you just met coincidentally, or felt spiritually liberated when you engaged in physical activity like a child?
  Seemingly insignificant questions may become increasingly more confusing the more you think about them, and you may feel bewildered at being drawn into countless unfathomable questions. However, the ability to live in this Age of Incomprehension certainly cannot be acquired through half-baked attempts at understanding. Thus, the Department of Human Sciences provides two courses that prescribe one course of action: to wonder exhaustively.
Curriculum Features
  In their first year, students take a broad range of "Introductions". In order to comprehend humanity, it is desirable to acquire a good understanding of what humans have done thus far—that is to say, the creation of history, culture, and language.
  Beginning in their second year, students acquire specialized knowledge in various fields through "Special Studies". In "Seminars" and "Practices", students not only increase their specialization but also learn basic skills for academic learning. The second year is packed with signature subjects of the respective courses.
  In their third year, students finally begin preparations for planning and conducting their own original research. In third-year "Research Seminars", students learn how to structure and discuss research, then in their fourth-year "Seminars for Graduation Thesis", they undertake actual research activities, the results of which are summarized in their graduation theses.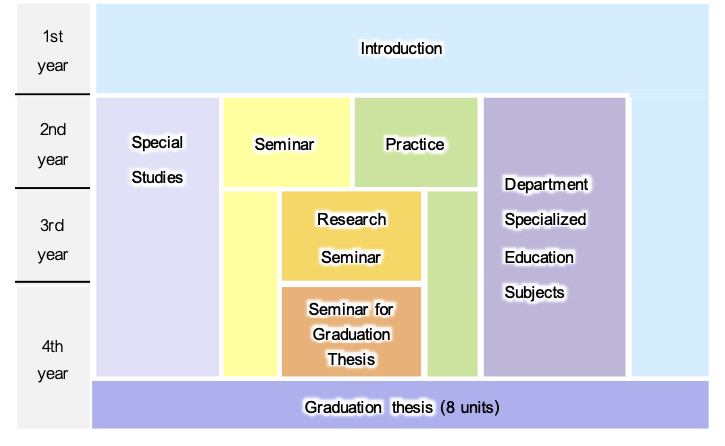 Figure: Overview of the Department of Human Sciences Curriculum
Distinctive Activities
Philosophical Anthropology of Disparity and Rapport Project
  Whether it be the issue of "Social Withdrawal", the "Elementary School First Grader Problem", or the "Elderly Problem", initially there was no tangible "problem". It is only when someone views them as problems that such "problems" come into existence. It is therefore impossible to avoid a question regarding such views: "Why, then, are phenomena deemed to be 'problems' in this sense?" Keeping in mind such views, the Philosophical Anthropology of Disparity and Rapport Project questions human existence in its various (physical, social, historical, transcendental, etc.) dimensions.
Childhood Education Specialist Program
In the 2019 academic year, the Childhood Education Specialist Program was established as a program for cultivating kindergarten and elementary school teachers based on learning undertaken in the Department of Human Sciences. Students aiming to obtain a teaching certificate for kindergarten or primary school are to take this program from their first year. For details, please refer to the website shown below.