Department of Language and Culture
Courses of the Department of Language and Culture
・Japanese and Asian Literature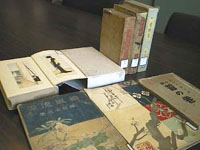 Students study Japanese and Asian language and culture from a broad perspective. Their work centers on intensive reading of literary works and documents in the fields of Japanese language studies/Japanese literature and Chinese language studies/Chinese literature, applying a comparative approach, and/or a gender studies perspective. Students will also learn how to use literature and picture scroll databases.
・European and American Literature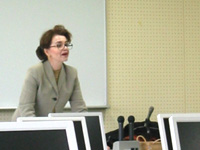 To advance humanistic and cultural understanding, students study the languages and literatures of Britain, America, Germany, and France in terms of their internal structure, their relations to individual mind, human cognition, society, culture, and gender, or through textual analysis.
The World is Made of Languages!—Learn Language, Fully Utilize Language. Learn from Language, Create Language.
  What is language? What cultures have humans built through language? How are the many languages of the world structured, and how do they function? Why is it that works of literature—which are works of art created with words—are able to convey ideas and emotions to us? Those are the questions that start our research. Focusing on "language" and "literature" in Japan, China, America, Britain, Germany, and France as well as regions where the cultures of these countries have permeated, the course also undertakes studies and research from the perspective of cultural phenomena overall.
  Regardless of whether the work is in Japanese or another language, the foundation for the study of language and culture is a sophisticated sensitivity to and advanced proficiency in languages. The course aims to nurture women with an outstanding sense of "language" and deep literary and cultural cultivation who are capable of playing an active role on the global stage as a citizen of the world.
Curriculum Features
  Our curriculum enables students to deeply examine a single language and culture, or to more broadly study two or more languages and cultures. Students can choose for themselves which path to take.
  Our extensive faculty covers various methodologies, regions, eras, and genres. We offer detailed individual guidance according to the topics students choose.
  Foreign language instruction is meticulous—so much so that students transferring from foreign language universities are startled by the strictness. For "Communication Subjects" (English/German/French) in particular, students are expected to participate in high-level discussions with native-speaker instructors and to make presentations and write papers in the foreign language they are studying. Students majoring in English language and literature are required to write their graduation thesis in English.
 Every year, several students study abroad at various overseas universities (with which Nara Women's University has agreements), and we have built up an abundance of expertise for facilitating successful study abroad experiences. Every year, several students study at various overseas universities with cooperative agreements with Nara Women's University, and we have built up an abundance of expertise for facilitating successful study abroad experiences. 
Distinctive Activities
  In collaboration with various international exchange organizations in Nara Prefecture, Osaka, and Kyoto, the Department of Language and Culture jointly holds various events and hosts special lectures every year, inviting university professors and persons of culture from China, Europe, and America as guest speakers.
  In addition to holding TOEIC-ITP examinations on-campus, we also provide the Nara Prefecture venues for the Test of Chinese Proficiency, Diplom Deutsch in Japan (the test of German proficiency), and Diplôme d'Aptitude Pratique au Français (the test of French proficiency).
  In cooperation with the university library, we are also involved in creating databases and making available to the general public valuable ancient writings and pictures such as "Historical Resources of the Nara Region", early modern period travel writings, and the Tales of Ise.
  Parties where you can enjoy German and French cuisine are held in the Student Cafeteria..
Gender and Literary Studies Subject
  This project provides forums for new methods of literary and linguistic analysis, using the perspective of (social/cultural/historical) gender.