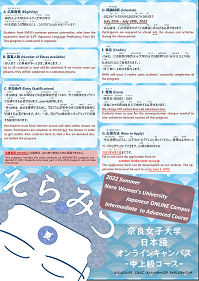 **Click on the image for more details!
Online Japanese Language Program "SORAMITSU"
Intermediate-Advanced Japanese Course :July 25th-28th (4days)

Aiming to train internationally active female leaders, Nara Women's University conducts an online Japanese language program "SORAMITSU" for students of NWU partner universities.

This program is conducted in Japanese and intended for students who have studied Japanese and have the equivalent level of JLPT (Japanese Language Proficiency Test) N3 (or higher).

This online program offers participants online lectures from NWU professors on various topics such as Letters in Asia, Traditional Japanese Culture and Hotsprings, Where is Sushi from, Sports and Japan and so on. In addition, participants watch videos made by NWU students about fashion in Japan, virtual tour of Nara and so on, and learn a lot about modern Japanese culture as well.
Through these lectures and interactions, participants will learn Nara and Japan deeply, and have many opportunities to speak Japanese and express their own thoughts in Japanese, which will surely improve their Japanese skills.
Application Procedure
1. Eligible applicants

Students from overseas partner universities.
(Participants must be enrolled in overseas partner universities during the program.)



2. For Applicants (students)