HOME > Overview > Message from the Dean
Message from the Dean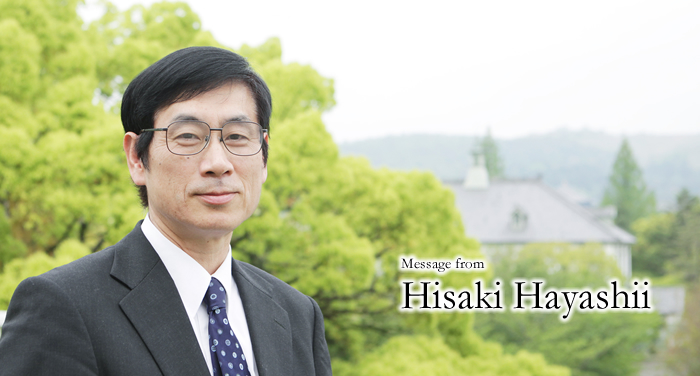 Do you ever experience a feeling of mystery regarding the world around you or various natural phenomena? Science explains how and why these phenomena occur and provides a blueprint to guide the development of applicable technology to aid human society. The Faculty of Science at Nara Women's University has a long history, since 1953, for cultivating women through education and research in basic science at a high level.
Our faculty consists of two major departments: the Department of Mathematics and Physics, and the Department of Chemistry, Biology, and Natural Environmental Sciences, which both provide education in combination and coordination with the other departments. You can learn the various aspects of the basic science and their applications from a primitive level to the advance level, step-by-step, through informative lectures and student experiments given by the specialists in specific fields.
The curriculum at the Faculty of Science first offers liberal arts education (basic and cultural subjects such as major subjects, foreign languages, health and physical education, and information processing) as basic subjects in order to study specific fields along with career education and subjects which are common in your department. It is possible to achieve a university education and gain further insight while reviewing knowledge from time to time based on the science courses you have taken. In addition, there is consideration for transfer to graduation and task-oriented research carried out by a small number of people through lectures, experiments, practical learning, and seminars on the subjects in each department. Students belong to research laboratories and they participate in a part of the most up-to-date scientific research by carrying out each graduation research topic. This type of curriculum nurtures the acquisition of skills such as scientific thinking, experimental techniques, foreign language abilities, and ability to make a presentation.
As one of only two national women's universities in Japan, Nara Women's University is educating and nurturing women who can contribute to the realization of a society (gender-equal society) where men and women can display their individuality and capabilities while showing mutual respect for one other. However, women currently account for only a small proportion in the fields of science and technology in Japan. We take various initiatives to support female researchers and focus efforts to establish education and research environments. You too can travel through the wonderful world of science together with us following this new education system in the naturally beautiful campus of Nara Women's University, in an environment that places importance on the needs of women.
---