HOME > Faculty of Science > Department of Chemistry, Biology, and Environmental Science


Educational Policy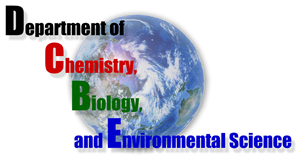 The Department of Chemistry, Biology, and Environmental Science values and nurtures the perspective of generally understanding the global environment which surrounds matter and life. The Department strives to foster scientifically-thinking women who will be active in a variety of fields through basic scientific education and practical specialized education which links these three subjects.
---
---
Students
The Department of Chemistry, Biology, and Environmental Science is looking for students who have an interest in overall natural sciences and a desire to learn advanced and cutting-edge knowledge through specialized courses, and develop the capacity to identify problems by themselves, consider the options, and solve these problems, and to take initiatives in solving a wide range of problems facing humanity's future. Therefore, it is necessary for students to have a good knowledge of mathematics and science from high school (physics, chemistry, biology, and geology). In addition, English is vital in studying modern natural sciences, so we are looking for students who have sufficient English reading, writing, listening, and speaking abilities. As most subjects are taught in Japanese, students are expected to understand and express themselves in Japanese.
---
---
Wide Range of Basic Scientific Education and a Diversified, Specialized Education Curriculum
The Department of Chemistry, Biology, and Environmental Science offers Chemistry Course, Biological Sciences Course and Environmental Sciences Course. New students belong to one of these courses, but first-year students mainly complete studies in common subjects to secure basic knowledge of mathematics, physics, chemistry, biology, the environment, and information and computer sciences, which are the fundamentals of every course. In addition, the curriculum is designed to dispel the boundaries between these courses, enabling the students to change courses depending on their goals when progressing to the second year. From the second year onward, students take on specialized studies and subjects involving experimentation and practical learning. The Chemistry Course targets modern chemistry including properties and reactions in basic molecular chemistry and molecular association systems such as organic and inorganic complex systems as well as biofunctional materials. Throughout various learning methods, i.e. lectures, experimental coursework, exercise, and practical research, this course nurtures student's logical mind and problem-solving ability. We expect graduates to perform active and excellent works in a wide variety of specialized fields. The Biological Science Course provides systematic education and research to understand the life phenomena that interweaves various living creatures, including humans, at multiple levels from molecules to ecosystems. Through these activities, this course educates students who have specialized knowledge in biological sciences and the capability to think and apply themselves logically, as well as students who can be active in society. The Environmental Sciences Course guides students to be able to comprehensively understand natural phenomena in time and space from the molecular to global levels as well as from the past to present, from the perspectives of chemistry, biological sciences, and environmental sciences. These students will be able to contribute to solving various environmental issues which mankind faces. The goal of all three courses is to educate young people who have the desire to discover future issues by themselves in various fields, and take initiatives to resolve these issues. Fourth-year students, in particular, tackle various unanswered problems in graduation and task-oriented research. Contributing to cutting-edge research builds their practical problem-solving capabilities.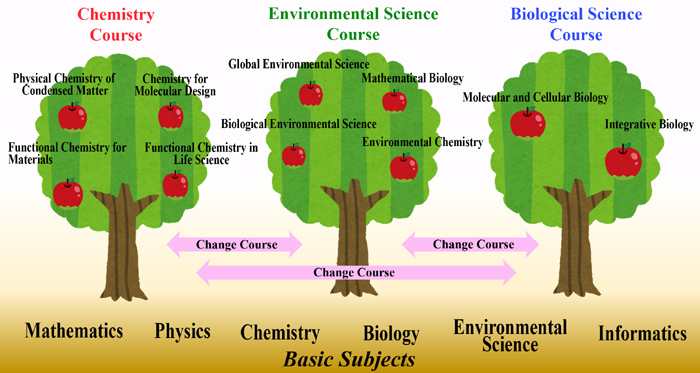 ---
---