/ Relevant pages → Master's Program in Physics at the Graduate School
Features of Education and Research Fields in the Physics Course
The Physics Course consists of the two educational fields; subatomic particles and astrophysics and the other with physics of condensed matter field. Covering a wide range of physics from the micro to the macro world, the nine research groups belonging to these two educational fields cooperate to realize excellent education.
---
Features of the Curriculum in the Physics Course
The Physics Course has a systematically composed curriculum which nurtures and reinforces the students' knowledge and understanding, starting from the basics and then advanced ones. Theories and experiments are closely associated in physics, therefore in addition to lectures, subjects involving seminars and experiments are carefully into arranged the curriculum. Also, in addition to practical learning with computers, logical thinking capabilities are nurtured so the students acquire basic skills in both hardware and software to become a scientist or an engineer. Fourth-year students are supervised their graduation researches by teachers in specialized fields. These students can experience the most up-to-date research through seminars and experiments carried out in the research laboratories and interact with teachers and graduate students. Possibly the fourth year would become the most fruitful in the students' university life.
---
Education and Research Fields
Area of elementary particles, nuclei, and astrophysics
This area includes of the properties of elementary particles and interactions between them. Via both experimental and theoretical approaches, the properties and structures of elementary constituents, as well as the structure and evolution of the universe are studied.
Area of condensed matter physics
Various phenomena (phase transition, magnetism, electronic conduction, etc.) observed in materials consisting of huge numbers of electrons, atoms, and ions are studied based on fundamental laws of microscopic objects. In addition, complex structures which exist in nature, such as chaos, neural networks, and dissipative structures, are studied as the extension of statistical mechanics.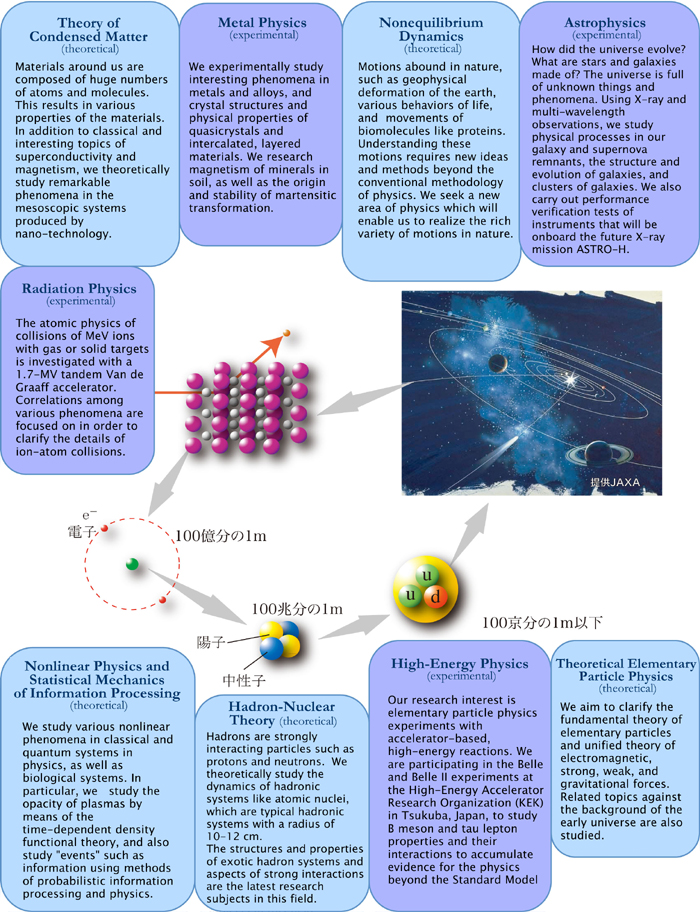 ---
Faculty and Research
---
/ Relevant pages → Master's Program in Physics at the Graduate School
---