Mathematics HP / Relevant pages → Master's Program in Mathematics at the Graduate School
Features of Education and Research Fields in the Mathematics Course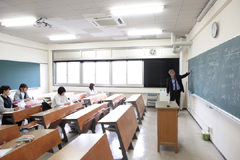 Education and research of mathematics are comprehensive rather than individual disciplines. The purpose is to research what type of structure exists in various objects and how to link these to understand the overall structure of the object. The focus is on education and research in fields including geometry, algebra, and complex analysis, with the aim of acquiring new knowledge of mathematical structures without being confined by these conventional boundaries. An additional purpose is to perform research and gain a deeper understanding of changing and varying mechanisms in various phenomena based on calculus. This focuses on education and research in fields including probability theory, nonlinear analysis, real analysis, and number theory, with the aim of further evolving and enriching the development of phenomenon-based analysis through further interactions within these fields.
---
Features of the Curriculum in the Mathematics Course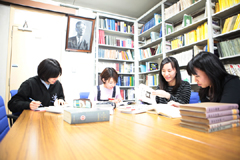 During the first half of university life, the Mathematics Course strives to build a solid foundation of modern mathematics, including differentiation, integration, vectors, matrices, and sets through lectures and seminars in order to nurture mathematical thought processes and a feeling for mathematics. During the second half, students learn more specialized and advanced topics through introductory subjects in various fields of modern mathematics, such as algebra, analysis, and geometry. In addition, it is possible to take courses in computers such as programming. The last year of university involves taking seminars in small groups, acquiring further knowledge, advancing research, and presenting the research.

Furthermore, the Mathematics Course includes lectures which involve multiple departments with the aim of educating people who can understand natural phenomena from a wide perspective, as well as processing and solving problems in a flexible manner even when facing situations which necessitate multiple fields of expertise.
---
Education and Research Fields
The following is an introduction to the course, with diagrams and formulas: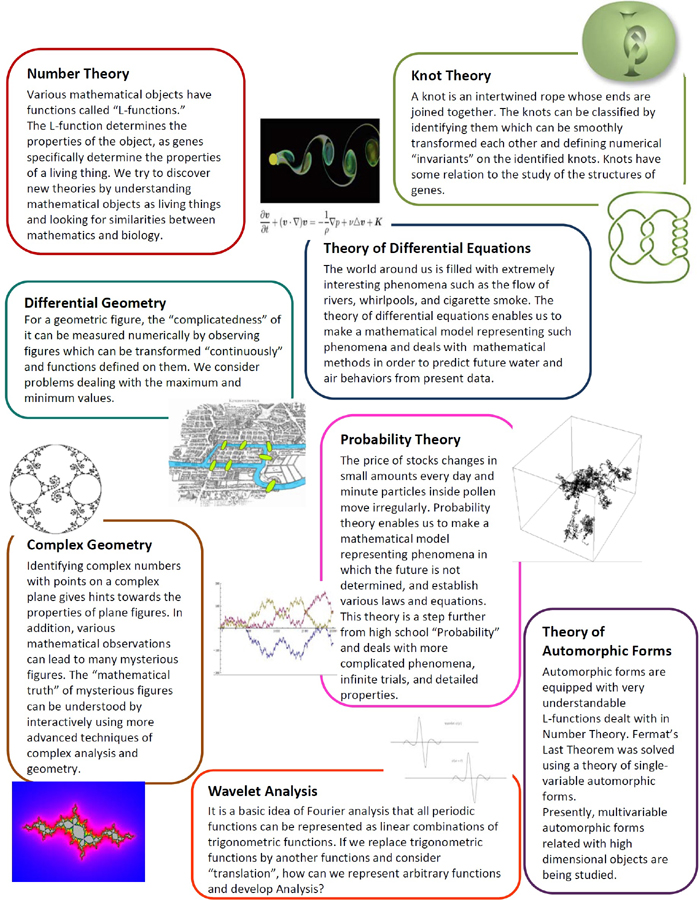 ---
Faculty and Research
Mathematics HP / Relevant pages → Master's Program in Mathematics at the Graduate School
---