Mathematics HP (2013) Physics HP (2013) Information and Computer Sciences HP (2013)
Relevant pages → Master's Program in Mathmatics and Physics at the Graduate School
Features of Education and Research Fields in the Physics and Mathematics Course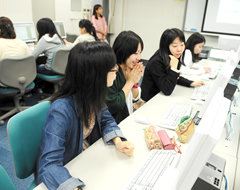 Students in the Department of Mathematical and Physical Sciences learn the basics of either mathematics or physics and various methodologies. Moreover, students learn skills to express theories of mathematics and physics, such as the technique of computer programming. Opportunities to experience mathematics and physics actually applied in society are also offered.
Students who focus on physics do not simply learn about space, subatomic particles, and matter in the world around us, which have been the subjects of physics research up until now; they also get a chance to learn within fields concerning the nanometer-size system (also called the mesoscopic system in the sense of an intermediate between micro and macro). In addition, students learn about new fields from a physics-based perspective which deal with not only objects but also events such as information. These fields are the fundamental studies of so-called nano-technology, and they are closely related to the mechanisms of memory and recollection of the brain. There are also efforts to employ education on numerical simulation using computers as a method to study these fields and plasma phenomena, such as the aurora borealis.
---
Features of the Curriculum in the Physics and Mathematics Course
The Physics and Mathematics Course involves education with the cooperation of mathematics and physics teachers with the aim of helping students acquire a balanced understanding of the two subjects. Specifically, students are first given a wide range of knowledge regarding mathematics and physics along with computer programming technique through lectures, experiments, seminars, and other means. Subsequently, graduation research involves learning a wide range of problem-solving and communication skills through seminars which deal with topics in mathematics and physics that are slightly different from what students have learned up by then.
This course features a new type of education forged through the cooperation of mathematics and physics teachers. Fourth-year students are not only grouped into laboratories studying the fields of traditional mathematics, physics, and information and computer sciences; they can also carry out their graduation research under new themes which constitute a bridge between these fields.

---
Education and Research Fields
Nano electrons system theory (Hideo Yoshioka)
Graphene is the very thin planer material of carbon atoms in honeycomb structure. Motions of the electrons in this material are same as the massless ones in vacuum. I study theoretically their interesting phenomena such as magnetism and conduction.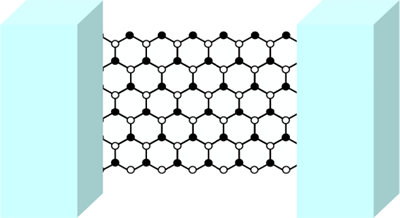 ---
Theoretical study of electronic states in crystals (Masahisa Tsuchiizu)
Molecular conductors are crystals where the constituent units are molecules, and there are a full variety of electronic states owing to the various combinations of molecular species and their arrangement in crystals. The aim of my research is to elucidate the fundamental concepts of these phenomena theoretically.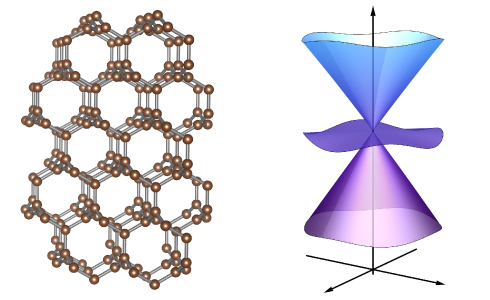 ---
Statistical Mechanics of Information Processing (Tatsuya Uezu)
We study not only "objects" but also "events" such as the synchronization of oscillators, and the functions of brains like memorizing and recalling through using the methods of mathematics and physics.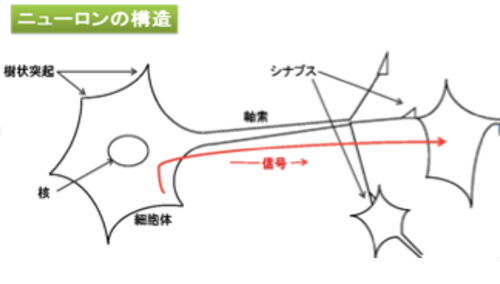 ---
Nonlinear Dynamics (So Kitsunezaki)
Complex dynamics hidden in natural phenomena often make intriguing patterns and motions. We study deformation and fracture of soft materials, patterns of collective motions created by microorganisms, and so on, both theoretically and experimentally.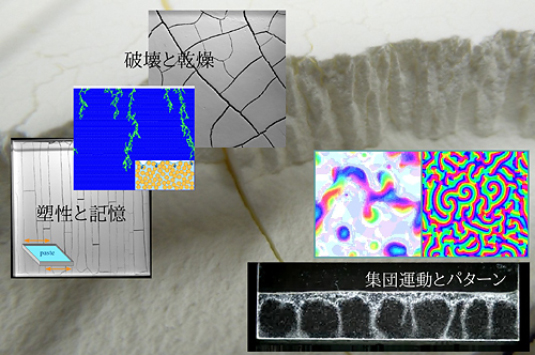 ---
Group Theory and Discrete Geometry (Junichi Matsuzawa)
I am a mathematician working in group theory. My interest range from representation theory of groups to the mathematical study of symmetries of geometric structures appearing in the realm of nature such as liquid crystalline matters, surfactants, mitochondria, pigment cells of retina, chloroplasts, butterfly wing scales, etc.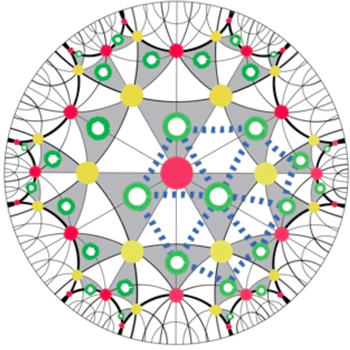 ---
3-dimensional visualization of non-Euclidean geometry (Yasushi Yamashita)
By drawing 3-dimensional computer graphics of fractal shapes, a typical example of geometric objects with fractal dimensions, we aim to understand new mathematical phenomena which can be approached only by using computer.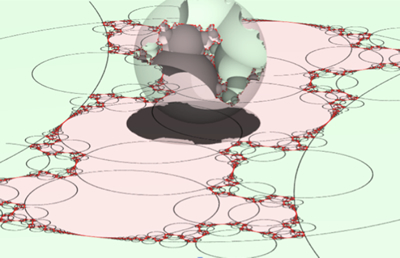 ---
Physics of the strongly coupled plasmas (Shuji Kiyokawa)
The strongly coupled plasmas are shown in white dwarf, stellar and giant planetary interiors, laser compressed plasmas, where for their constituent charged particle the potential energy of charged particle to kinetic energy ratio is very large. Therefore such plasma has in some cases a crystal structure comprising body-centered cubic lattice phase.
My field of study is constructing theory of the strongly coupled plasmas by means of the density functional theory.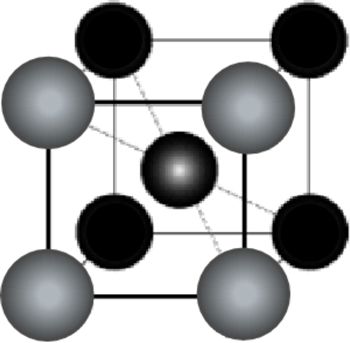 ---
Computer algebra system (Fujio Kako)
My major research interest is algorithm of approximate algebraic computation such as factorization of multivariate polynomials, solution of algebraic equations and so on.
---
Mathematical sciences for knowledge-based society (Shuichiro Tsunoda)
Knowledge-based society changes technology-based society.
Here is needed new mathematical science I have studied.

---
Mathematical Science of Form (Tsuyoshi Kobayashi)
I am studying mixing process of viscous fluid, and origami (Japanese traditional paper folding) from the viewpoint of topology.

---
Faculty and Research
---
Mathematics HP (2013) Physics HP (2013) Information and Computer Sciences HP (2013)
Relevant pages → Master's Program in Mathmatics and Physics at the Graduate School
---